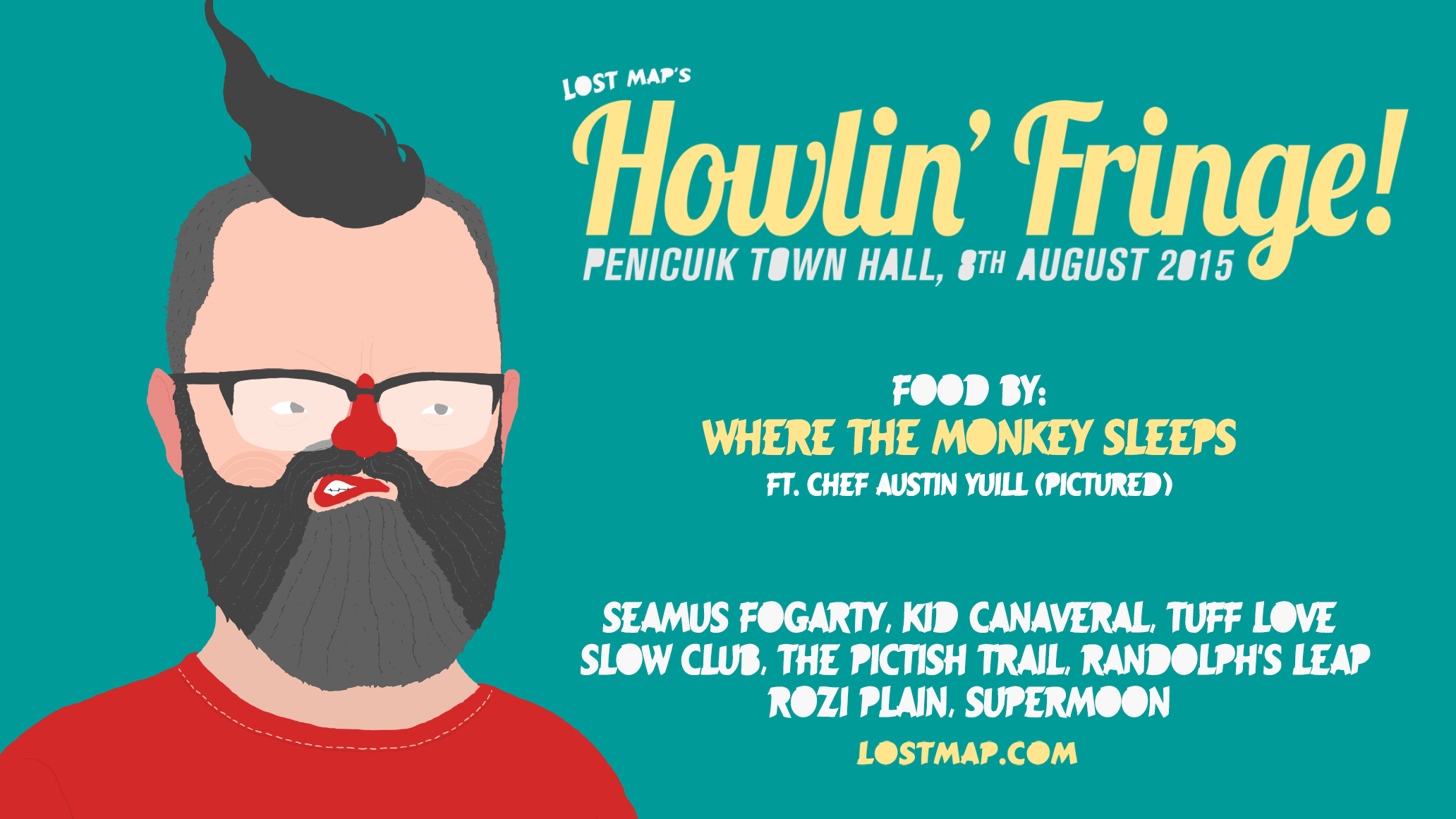 Here at Lost Map we like to ensure your hearts, souls and ample bellies are adequately warmed and provisioned from the inside as well as out when you come to our events. Which is why we've asked the crack culinary champs from hard rockin' Glasgow caterers Where The Monkey Sleeps to prepare a special menu for the Howlin' Fringe! of such indecent tastiness – from full meaty and vegan hot meals to snack pies – it's frankly a bit wrong.
Don't even glance at the below menu on an empty stomach or you might start feverishly licking your monitor, which would be disgusting on any level, let alone when you consider what other sort of thing you tend to do in front of your monitor (feverishly). Chef Austin Yuill – that's him pictured with the howlin' fringe – and his team are the same people who kept you alive on Eigg last summer at the Howlin' Fling! so you can confident that your bellies are in safe hands. You'll even be able to wash down your victuals with delicious local beers from breweries Stewart's and Innis & Gunn. Without further ado, here's that menu. Seriously, no licking.
Sweet potato, spinach and carrot Korma and rice
- - -
Vegetable and bean chilli and rice
- - -
Carrot, butterbean and rosemary casserole with rice
Cambodian Khmer chicken curry spiced with galangal, turmeric and coconut-topped with spiced peanuts (optional) and served with rice and a flat bread.
- - -
Slow cooked shin of beef chilli with beans, rice and soured cream
- - -
Belly pork and Italian sausage cassoulet served with potatoes
Cous cous salad (vegan)
- - -
Tuna and sweetcorn pasta salad
- - -
Panzanella (plum tomato, basil, red onion and garlic croutons) (vegan)
Slow cooked beef shin and tomato
- - -
Chicken, mushroom and tarragon
Macaroni
- - -
Mashed potato and baked beans
Sausage rolls
- - -
Steak and onions pasty
- - -
Cheese and onion pasty