Randolph's Leap - Clumsy Knot (LP/CD)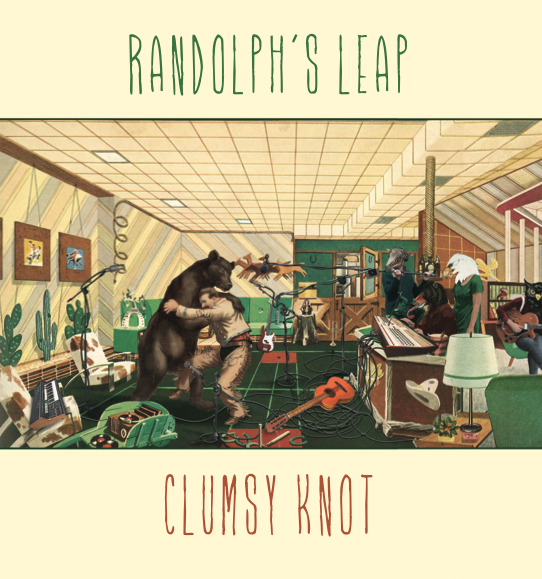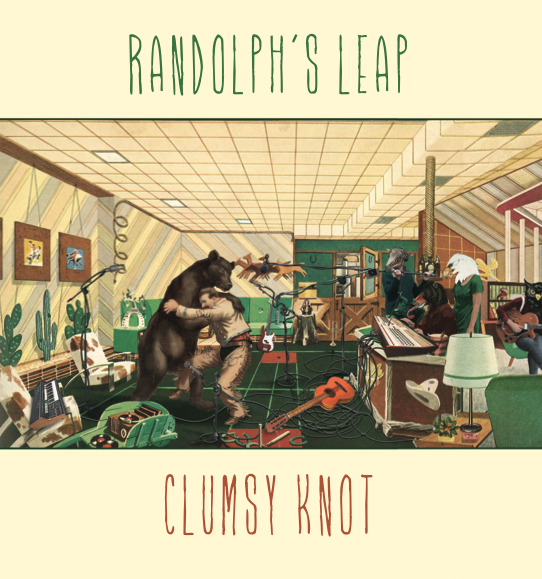 sold out
Randolph's Leap - Clumsy Knot (LP/CD)
Purchase the new album from Randolph's Leap, Clumsy Knot.
*CD* - a copy of the album on compact disc, packaged inside a limited edition fanzine. £10.99 THE CD EDITION HAS NOW SOLD OUT.
*VINYL* - THE VINYL EDITION HAS NOW SOLD OUT.
LOST MAP CAT NO: LAT 00°2 7'5.2014"
INFORMATION
Begun on the fringes of a college music course in Ayr circa 2006, the now Glasgow-based Randolph's Leap is/are singer, songwriter and home-recording boffin extraordinaire Adam Ross - as sometimes aided and abetted live and on record by a seven-piece band that includes Vicki Cole (bass), Andrew MacLellan (cello, guitar), Iain Taylor (drums, guitar), Heather Thikey (violin), Ali Hendry (trumpet), Fraser Gibson (trombone) and formerly Gareth Perrie (keyboards, vocals, guitar).
When not working in a cafe at a wind-farm, Adam ponders in song all from the neurosis of self-doubt to the simple joy of a sax-solo, the difference between barristers and baristas, the appeal of running away to the woods to live like a recluse and the idealistic romanticism of island life (maybe he ponders these things while working in a cafe at a wind farm too, we haven't asked).
These wistful tableaux are most often committed to tape in the confines of his humble Partick abode by combination of acoustic guitar, cheap keyboards and basic drum-loops, with a profligacy that belies their increasing sonic sophistication, which has improved exponentially from the delightfully scratchy, hissy lo-fi stuff of 2012's The Curse of The Haunted Headphones through to last year's Olive Grove Records mini-album Real Anymore to come to bear at least a passing familiarity with what might be termed "slickness".
Just over half of the songs on Clumsy Knot are home-recordings. However, don't be surprised to see the lesser-spotted Randolph's recording too as a gang in such environs as producer/engineer Pete MacDonald's house (formerly a Polish Embassy and home to Teenage Fanclub), and (whisper it) even proper studios - with the exuberantly joyful 'Hermit' proving just what they're capable of unleashed upon pro gear (that is, knowingly-dodgy lyrical puns to the tune of "living like a hermit/ hermit the frog").
Tying together all these many disparate strands of the band in a comprehensive if not always necessarily elegant way - and you understand the title, Clumsy Knot now - Randolph's Leap's utterly delightful debut album is the strongest single statement yet as to just why this band are one of the most loveable new forces in folksome indie-pop. For the way it surveys everything the band are about, Adam describes Clumsy Knot as "my favourite album we've made," and we don't disagree.
You'll hear shades of vintage Belle & Sebastian in the lush 'Weatherman' and 'Isle of Love', or hints of The Magnetic Fields in the dour boom-box indie-tronica of 'Light Of The Moon'. And yet throughout Clumsy Knot, there's also something indefinably, uncategoriseably Randolph's going on, hinging on the idiosyncratic vision of a laugh-out-loud funny songwriter who revels in lyric writing as word-puzzles and the daft pleasure of a rhyme-that-doesn't-quite-rhyme ("If I spoke Dutch would that help me much?", Adam ponders ponderously on 'Foolishness of Youth'), and yet who can also stop you dead in your tracks with a moment of heartfelt loveliness (see the beautifully simple 'Black and Blue' or the shivering 'Cold'). All of which beats a direct path to your affections faster than any such unwieldy, 32-limbed creature has a right to.
TRACKLISTING
SIDE A:
Unnatural
Foolishness of Youth
News
Hermit
Gina
Light of the Moon
Weatherman
SIDE B:
Black & Blue
Isle of Love
Microcosm
Saxophone
Cold
I Can't Dance to This Music Anymore